The Delphi IDE has got a special menu called Tools. This menu by default contains several entries like
Options
Repository
Configure Tools ...
License Manager
Quality Central
The first three of these entries are static. The last two call external programs and are preconfigured by the installer.
In addition, 3rd party IDE extensions might add their own entries to the Tools menu. Also, using the Configure Tools option, you can add your own entries to this menu.
As an example we will add an Explore Project Directory entry, that opens the Windows Explorer showing the directory that contains the current project's .dpr file:
Click Tools / Configure Tools ..., the Tool Options dialog is displayed
Click Add ..., the Tool Properties dialog is displayed
Enter "Explore Project Directory" as the Title
Enter "explorer" as the Program
Leave the Working dir empty
Enter $PATH($PROJECT) as Parameters
Press OK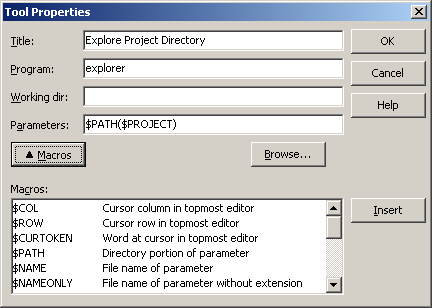 The Tools menu now contains a new entry Explore Project Directory. If you click it while a project is open, it will open the Windows Explorer and show the directory that contains the project's .dpr file. If no project is open, it will show you "My Documents" directory.
←==See also==
Ad blocker interference detected!
Wikia is a free-to-use site that makes money from advertising. We have a modified experience for viewers using ad blockers

Wikia is not accessible if you've made further modifications. Remove the custom ad blocker rule(s) and the page will load as expected.