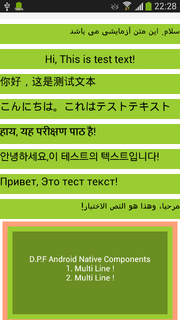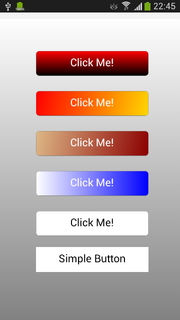 Welcome to the world of Android programming!
Develop Native Android applications with Delphi XE5

Edit
Some components:
Added TDPFJAlertDialog
TDPFJAnalogClock
TDPFJButton
TDPFJCheckBox
TDPFJChronometer
TDPFJDatePicker
TDPFJDatePickerDialog
TDPFJEditText
TDPFJImageView
TDPFJListView (not completed)
TDPFJProgressBar
TDPFJProgressDialog
TDPFJTextView
TDPFJTimePickerDialog
TDPFJToast
TDPFJView
TDPFJRadioButton
TDPFJNumberPicker
TDPFJScrollView component
TDPFJSeekBar
TDPFJTabHost Component (Tabbed view)
TDPFJSpinner Component (Dropdown list)
TDPFJTextSwitcher Component (Fade/Slide Texts)
TDPFJTextClock
TDPFJWebView
Wrapped some Android.Widget
Wrapped some Android.Net
Wrapped some Android.OS 
Wrapped some Android.R
Enjoy Android Apps Developing
Info: D.P.F Delphi Android Native Components
Ad blocker interference detected!
Wikia is a free-to-use site that makes money from advertising. We have a modified experience for viewers using ad blockers

Wikia is not accessible if you've made further modifications. Remove the custom ad blocker rule(s) and the page will load as expected.