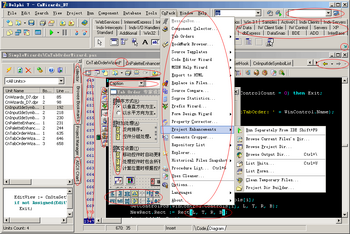 CnPack IDE Wizards or CnWizards is an Open Source IDE Expert for Delphi 5 thru 8, BDS 2005, BDS 2006, Delphi 2007 for Win32 and C++ Builder 5/6 by the CnPack Team (led by Liu Xiao) to help improve the efficiency of developers. Its offered in English, Simplified Chinese and Traditional Chinese.
CnWizards includes the following experts/wizards (among others):
Code Input Helper
Enhanced Units/Forms List
TabOrder Wizard
Flat Toolbar in Form Designer with full customized
MSDN Help Integrated
Toolbar in Editor with full customized
Project Extension Tools
Multi-line Component Palette
Roll Windows and Set to Topmost
Source Codes Statistics
Lots of Other Improvements
It also includes the following tools:
CnWizards Configuration Import&Export
DFM File Convertor
IDE Config Backup/Restore Tool, including IDE History Cleaner
Debug Output Unit & Viewer
ASCII Chart
External Links
Edit
Ad blocker interference detected!
Wikia is a free-to-use site that makes money from advertising. We have a modified experience for viewers using ad blockers

Wikia is not accessible if you've made further modifications. Remove the custom ad blocker rule(s) and the page will load as expected.